Check out our JOIN-ON hot-tenting trips!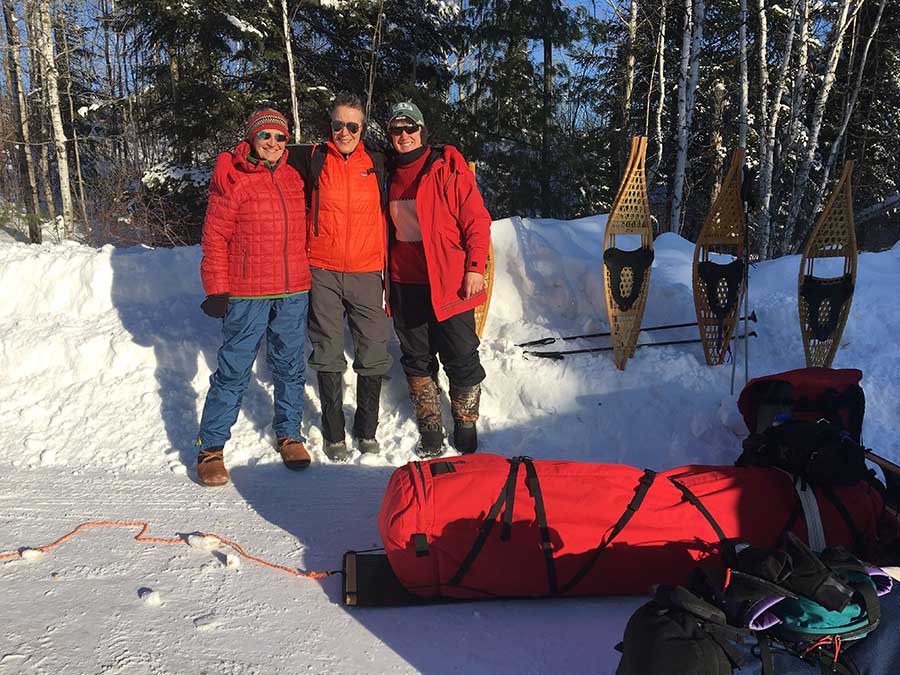 Aaaaah…WINTER! We couldn't be more excited to share the unique solitude and beauty it brings to the Boundary Waters! Star-filled nights with moon-shadows on fresh snow. Crisp winter sunlight beaming down countless diamonds on the snow-covered trails ahead. Experience warm, cozy camping with Snowtrekker tents and portable wood stoves. Trek by traditional snowshoe or back-country 'cross ski.' Pull your gear load by Black River toboggan as you glide over snow-covered lakes and wooded trails. Embrace the season! Contact Us to discuss booking an overnight or a day trip this winter.  It's never too early to begin planning your next great adventure…winter or summer!
**Winter/Spring 2020 Women's JOIN-ON Hot-Tenting Trips**
Our winter group limit is 5 campers and includes fully outfitted gear, customized food plan, and your professional guide. Refer to our Cost page for youth pricing. Our fully-appointed Guesthouse is available for your overnight, if you wish, before the trip. Winter travel in the Boundary Waters does not require an advance permit reservation from Oct 1 – Apr 30. Your BWCAW entry point or back country route will be chosen by your guide as the trip draws near, and is dependent on weather and ice conditions on the lakes at that time. Safety first!
*FEBRUARY 14 Fri-17 Mon, $660/adult, 3 nights~4 days (max 5 campers) Make it a special Valentine's Weekend in a stunning wilderness setting.
*MARCH 1 Sun-4 Wed, $660/adult, 3 nights~4 days (max 5 campers) Early March is a delightful time on the winter trail as days grow longer still.
*MARCH 19 Thur-21 Sat, $495/adult, 2 nights~3 days (max 5 campers) Spring begins as you trek into the BWCAW on still-frozen lakes and trails.
*APRIL 3 Fri-5 Sun, $495/adult, 2 nights~3 days (max 5 campers) We could still be in winter's grip, but add warm sunshine days to those crisp nights.
None of these dates work for you? No problem! Simply Contact Us to discuss and book your own trip dates. We love to custom-craft just the right trip for you and your friends & family!
Click on the first pic below and enjoy a slideshow.